Customer focused wireless service provided by AirLink Mobile wireless phone service company serves in the area of prepaid communication and has several prepaid cell phone plans with some interesting communication "sweets." These plans are very liberal and affordable for a broad audience of users. Of course, the most complete information, as well as the latest updates on all plans, offers and terms is available at the official Air Link Mobile web site at www.airlinkmobile.com. Besides, the web page contains all the info on pay as you go cell phones, which can be used along one of the plans. A number of models of various functionality represents LG, Motorola, Samsung, Nokia, and other handsets. Hearing aid compatibility option is present on many of these gadgets, too.
Features of AirLink Mobile
Being a prepaid cell phone provider, Airlink Mobile possesses all typical advantages of one. Naturally, with such a service there is no need to pay higher price per air time minute, users do not receive monthly bills for cellular services and do not have to face inflexible policies as for speaking minutes. Even more, there are no complicated service downgrades and upgrades. The airtime replenishment is usually quite convenient and the nationwide service is not restricted. The control of one's expenses also distinguishes Airlink Mobile from post-pay wireless providing companies.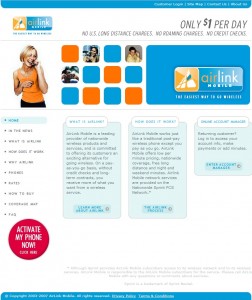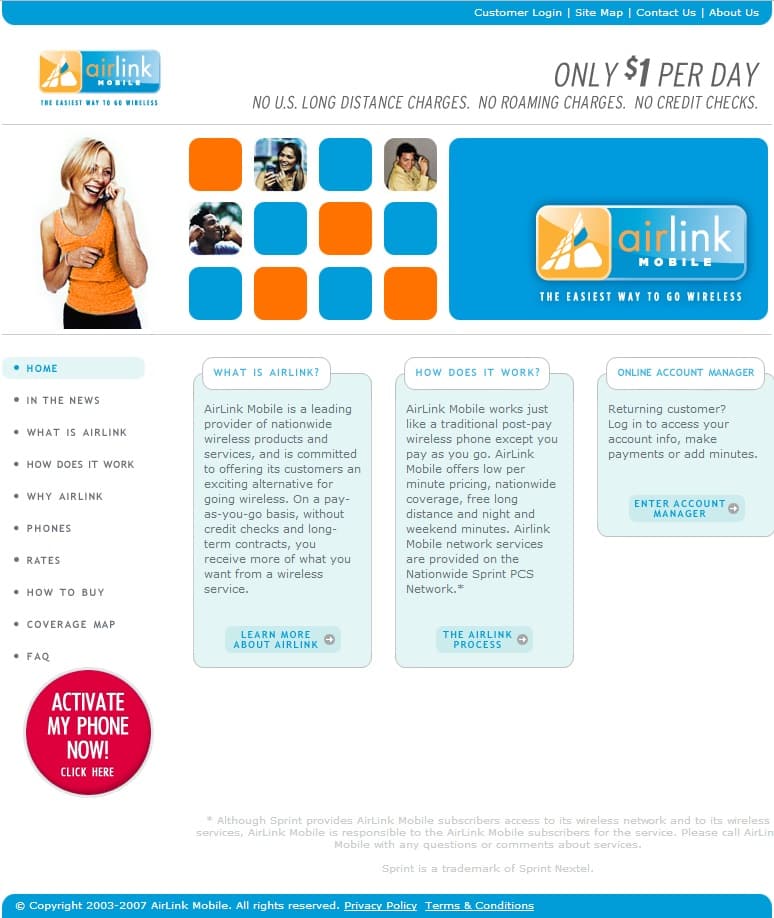 To be honest, it is worth to mention that AirLink Mobile can not be considered as an extraordinary service. Still, it can offer a lot. Due to its agreement with Sprint, the coverage wireless network of AirLink mobile is crystal clear and nationwide. Basically, it is possible to reach more than 250 millions of people with such coverage.
Airlink wireless plans include anytime minutes, free night and weekends minutes, free long distance calls, nationwide service, low prices per-minute, monthly spending control, free network roaming, and select talk minutes. There are termination fee, overage fees, monthly bills, contracts, credit requirements, and deposits.
How to Get and Use Airlink Mobile Cell Phones and Smartphones
Getting the phone. The simplest way to get a phone or smartphone from Airlink is to order it by calling their free number. Just choose a type of the gadget on the website and make a call. Also, the service can be purchased at Cumberland Farms, Kangaroo and The Pantry locations that participate.

Paying for the service. Night and Weekend, Anytime, and Select Talk minutes in every plan are replenished every 30 days with no action needed from the subscriber. The card used during signing up for the service is charged during this procedure ever month. The control of expenses here also suggests that a person gets a reminder when the pay as you go phone balance drops below ten dollars. The automatic procedure of paying monthly is called AutoPay.
The existing customers are supplied with the notification sent via e-mail at the end of each 30-day billing cycle. They are reminded to review the electronic invoice by doing so online. The estimated usage account is accessible online at airlinkmobile.com.
For more information, contact the official Airlink Mobile representative.
If you found an error, highlight it and press Shift + E or click here to inform us.