NET10 Wireless is a prepaid cell phone service brand managed by Tracfone Wireless Inc. It is one of the most popular US pay as you go companies providing a number of prepaid plans with numerous discounts for cell phones and smartphones being available along. The "No bills, no contracts, no evil" slogan of Net 10 Wireless has been implemented in local, long-distance, nationwide, and international call services it provides to its customers. The company claims that its main goal is to the save its customers' money, which is achieved by saving the costs for building cell towers, not printing out the paper bills, eliminating the hidden fees, not maintaining the stores of its own and reselling the minutes and data packages of bigger companies.
Advantages and Features of Net10 Wireless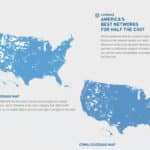 Net10 phone coverage network. One of the advantages the Net10 Wireless has been advertizing is its GSM and CDMA coverage. Because the brand does not manage and maintain any carrier towers, it has partnered with the biggest American carriers to use their equipment for providing the services. As a result, the Net10 coverage map is pretty impressive being available in all the fifty states. Net10 CDMA coverage map has almost no any differences from the conventional GSM one.
Net10 phones. There are two options for getting one of Net10 prepaid cell phones and Net10 prepaid smartphones. The prepaid carrier has a selection of new gadgets that can be bought from the company to operate under different prepaid plans it provides. The second option is even simpler. You can use the cell phone you already have (it should be factory unlocked for the use in any network) with a Net10 prepaid SIM card. This is always a cheaper choice for those who want to save more or switch to other carriers at any time they wish.
Net10 no contract principle. The freedom of typical no contract service is given to all Net 10 customers. With the plans of this company you are not locked into any contracts, and it's possible to switch plans, phones or stop using the service without any penalties.
Net10 prepaid plans. This cell phone brand has more than a dozen of different options of service plans. They all have different value but the best part of the plans is the price of the minute. At the moment, the cheapest plan by Net 10 costs only $15 and gives the benefits of auto refill, international calls and minutes carry over features.
Net10 Plans
Basically, the Net10 phone plans can be divided into three groups: Net10 family, 30-day monthly and pay-as-you-go plans. Once you choose a plan, it is not necessarily you have to stick to it all the time. It is easy and free of charge to switch between the Net10 cell phone plans.
Net10 family plans. This type of prepaid cell phone plans is getting more and more popular. The simplest of Net10 Wireless family plans is cheaper than family plans by AT&T, T-Mobile, Sprinter, MetroPCS or Boost. Up to four lines are supported in this service, with every additional to a primary line going with a substantial discount.
1 person Net10 family plan is $50/30 days with $45 auto refill.
2 people Net10 family plan is $90/30 days (which makes it $45 per each person) with $85 auto refill.
3 line Net10 family plan is only $130/30 days (which makes it about $43 per each person) with $125 auto refill.
4 lines Net10 family plan is only $170/30 days (which makes it about $42 per each person) with $165 auto refill.
All plans go with unlimited national calls, unlimited data exchange, unlimited texts, and no activation fee package. For specifics on these features you can address the terms and conditions of Net 10 or its customer support service.
Net10 monthly plans. These plans are available in two forms: unlimited and with the fixed amount of minutes. Net10 unlimited plan is perfect for those who do not want to bother with refilling the minutes if they run out. If you have a Net10 prepaid cell phone with fixed minute number 30-day plan, it is possible to refill it when needed by several options. Net10 Easy Minutes are auto refilled. So, the Net10 monthly plans are the following:
1. $50 Net10 unlimited plan. It includes $45 auto-refill option, unlimited talk and text, email option, 411 calls option, picture messaging, web surfing. No international calls are included.
2. $65 Net10 unlimited plan. This one has all the options of the $50 one and also includes international calls and unlimited international texts.
3. 750 minutes/$25 Net 10 prepaid cell phone plan.
4. 500 minutes/$30 monthly plan with Carryover feature.
5. 200 minutes/$15 monthly plan with Carryover feature.
Net10 pay as you go plans. Available for any budget size, these no contract prepaid service plans do not have a feature of auto-refill but include an International Calls feature and the carry over feature. The number of minutes and their price are: 200 Net10 minutes for $20, Net10 300 minutes for $30, Net10 600 minutes for $45, 900 Net 10 minutes for $60, and 1500 Net10 Wireless minutes for $100.
Net10 Add Minutes
Whenever you need to add minutes to Net10 phone, there are few options. The airtime minutes can be bought online at www.net10.com with a debit or credit card; they can be bought directly from Android Net10 phones; they can be refilled with an airtime card bought at retailers spots; or added from a personal reserve card previously bought for Net10 add minutes purpose.
Net10 Phones and Net10 Smartphones
If you do not wish to use the cell phone you already have with Net 10 SIM, you can check out the cell phones sold by the Net10 itself. All the devices to use with Net 10 plans are described at the official website. Net10 phones at Walmart, Target and Kmart stores are also available.
The simple Net10 cell phones include models like an ultra-portable Net10 Motorola W409G ($29.99), a slide-out QWERTY keyboard Net10 Samsung T404G ($29.99), a lightweight touch-screen Net10 LG 800G ($49.99), and a full QWERTY keyboard Net10 LG 500G ($29.99). These Net10 cell phones carry functions like Bluetooth wireless, simple camera, MP3 player, and mobile web. They are not smartphones and do not have Android. They cover all the Net10 plans. By the way, free Net10 ringtones can be downloaded from the web.
Net10 smartphones are far greater deals. They allow the customers of Net10 Wireless to enjoy all the features of cell technologies. The good thing about them is that they also can be called Walmart Net10 phones, for example, since these gadgets are sold at retail locations around the country.
The Net10 ZTE Merit smartphone is sold at a price of $129.99. It operates under Android 2.3 and has 3.5 inch screen. Its biggest advantage is the 5 MP camera.
Net10 LG Optimus Q is another average Net10 smartphone. It is sold for $179.99 and resembles the ZTE Merit with its screen size and basic functionality. However, it is different due to a weaker 3 MP camera and a full slide-out qwerty keyboard.
Net10 LG Optimus Logic gives you a 3.2 inch touch screen and 3.2 MP camera along with other standard features and Android 2.3 for only $79.99. It can be used with Monthly-National, Monthly-International, 2-, 3-, and 4-people Family plans.
An interesting gadget for $179.99 is Net10 Samsung Galaxy Proclaim. It has a nice-looking design, 3.5 touch screen, Android 2.3 operation system, and 3G/Wi-Fi modules. The camera, on the other hand, is pretty weak – only 3 MP.
Net10 Samsung Galaxy S II is the most expensive Net10 smartphone sold today. Its price is $349.99. But it's probably worth the buck asked. It has a touch screen of 4.3 inch, two cameras (8 MP and 2 MP front facing one), 4G HSPA+ module, a powerful 1.2 GHz processor, and built-in 16 GB memory.
There is also an option of getting a cell phone from a partner store to use within Net 10 Wireless network. Among these, Net10 iPhone 3GS is probably the most popular deal. This model of Apple smartphone is not the latest, however it is the only Net10 iPhone available today. The price is $269.99. This smarphone can be used with different prepaid plans by Net10 Wireless.
Net10 Website – Www.Net10wireless.com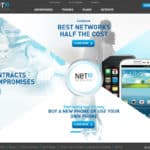 For now, the service brand can be reached through both, www.net10wireless.com and www.net10.com websites. The net10.com one redirects those who enter to net10wireless.com. The official website for Net10 Wireless service, www.net10wireless.com contains all there is information on the plans, adding minutes, phones, terms of service, activation, coverage, finding a retailer, etc. The information is also available in Spanish. Existing and new customers can create personal accounts with an access to managing their plans and refilling airtime minutes.
Net10 Customer Service Information
The Net10 customer service number is 1-877-836-2368. This Net10 customer service phone number is not the only one you can get support with. Customers may also call 1-800-867-7183 for Tracfone customer support.
The mailing address is: Net10 Wireless, 9700 NW 112th Avenue, Miami, FL33178.
Net10 email address is [email protected].
Net10 Facebook page is http://www.facebook.com/NET10Wireless.