Assurance Wireless Program For Free Phones
Assurance Wireless is another giant in the market of telecommunications in the USA, and is also a propagator of the Lifeline government initiative wherein the economically challenged are provided with free government cell phones and free minutes. Assurance Wireless is a company that is connecting hundreds of households with the rest of the networked world every year, fulfilling its role in the ecosystem of delivery of Lifeline benefits to the deserving sections of American populations.
What is Assurance Wireless
Assurance wireless is a service brought to Americans by Virgin Mobile. Among the foremost providers of free government cell phones in the country, Assurance wireless is best known for its promise of 250 free minutes every month, an offer that has recently been joined by an equally wooing offer of 250 free text messages per month as well.
Assurance wireless is aware that the free minutes provided may not suffice for all and is thus offered considerably subsidized packages wherein one is supplied with talk time for a pittance. $5, $20 and $30 top ups are now available that can float an individual through a month's worth of communication necessities. Since the services are international, you will find yourself appreciating this offer if you need to make international calls every so often.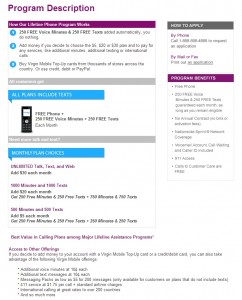 The most endearing aspect of Assurance wireless is the fact that the service can be availed of in most parts of the country. Purchasing additional minutes, text messaging, and international call balance is simple tasks as the top up cards are available at stores across the country.
Qualifying for Assurance Wireless
As a part of the Lifeline program, the criteria for qualifying for Assurance Wireless is not very different from those specified for other comparatively popular service providers like Safelink wireless or ReachOut wireless. To avail yourself of Assurance wireless services, you will need to produce documentation that shows that the total household income of your family is 135% or less of the poverty guidelines specified.
Assurance wireless is also readily available to those who are already a part of any of the numerous government programs designed to help the weaker sections of the society. The list of these programs is mostly the same but differs slightly from state to state, and it is in your best interest to check for the specifications of this aspect on the official webpage of Assurance wireless.
When applying for Assurance wireless, you must keep in mind that the service is designed to reach out to as broad a section of the needy as possible. Each household – with household being defined as a single economic unit of individuals who share the same physical address for the considerable duration of time – is permitted to have only one Lifeline free government cell phone.

Assurance wireless conducts thorough checks to ensure that it does not provide a second free phone to a household, but it is also your honesty that counts in not applying for a second free mobile connection.
Acquiring Additional Assurance Wireless Services
Assurance wireless makes space for those with needs that exceed the provisions of the service. 250 minutes of free talk time is not something that can be brushed aside as trivial as judicious use of cell phones could translate to an excess of free minutes. However, a household with multiple members actively using the service, 250 minutes could be extinguished in the blink of an eye. The task of job hunting is a continuous process that requires you to be in constant touch with recruitment agencies and employers. A landline is not very helpful in such situations, and the free talk time provided for your cell phone is your only option.
Assurance wireless makes space for such needs with its offers for more. Assurance wireless provides its consumers with amazingly subsidized prices of its services. A top-up of just $5 fetches you 500 minutes of talk time and 500 text messages in total. Paying 20 dollars per month will deliver a total of 1000 minutes of talk time and 1000 text messages at all. The supercharger of $30 brings much more into the monthly deal, throwing in unlimited (yes, you read it right – unlimited) minutes, unlimited text messages and unlimited web browsing.
Note that the figures mentioned above are inclusive of the 250 minutes of talk time and the 250 text messages that are original offers of Assurance wireless. A breather about these services is that you are not obliged to pay the chosen additional amount every month. Should you decide to revert to the original offer of Assurance wireless, you can just not pay the extra amount that month, which leaves you with 250 minutes and texts that month.
International calling is something that those with limited income will think about twice. However, Assurance wireless allows its subscribers to avail themselves of the opportunity to talk international at heavily subsidized rates by paying at their convenience with credit/debit cards, through PayPal or Virgin Mobile Top-Up cards. International communication options available to the subscribers of Assurance wireless include voice minutes and text messages at 10¢ each.
You can also avail yourself of messaging pack at prices as economical as $5 for 200 international messages, but this offer is available only for those who enjoy plans that do not include text messaging. More than 200 countries have been identified for international talk time packages provided by Assurance wireless.
Life of Assurance Wireless
When you apply for Assurance wireless services, you formally acknowledge that you are aware of the rules and regulations governing the subscription and provision of Lifeline services. You agree that you are the head of your household, that there is not more than one Lifeline beneficiary in your home, and that your economic status meets the requirements of the program.
Assurance Wireless is a program that will remain active for as long as your eligibility is not challenged. If your situation improves over time, you are required to notify the company of the same so that you can shift from Assurance wireless to a Virgin Mobile plan that befits you.
A member enrolled with Assurance wireless will not find any discrepancy in the services received as long as the cell phone is being used at regular intervals. For example, if the free cell phone minutes allotted to your free phone are not used at all over a period of 60 days, your membership with the service is canceled due to inactivity.
Besides, the law requires users to reaffirm their eligibility for the service every year, ensuring that there are no loose ends to the deal. It is an act that guarantees that the deserving are not deprived of their chances because of unethical claims of some others as free cell phones are distributed based on availability. Assurance wireless, like other Lifeline service providers, provides new, used and refurbished cell phones to its applicants, based on the availability of mobile phones.
In all, Assurance Wireless rides in on the reliability engendered by its association with Virgin Mobile and is an active member of the government initiated Lifeline program for the considerable amount of time. Acquaint yourself with the workings of the program, and it offers to claim the one that serves you best.