Knowing about SafeLink wireless application may throw a lifeline to the lesser privileged, and this makes it important for all those who are aware of SafeLink wireless application to spread the word about it. SafeLink is an option that comes to the aid of those who are currently unable to pay for calling services due to the lack of a job or unfavorable economic conditions.
Pre-Requisites for SafeLink wireless application
SafeLink wireless application is readily open to those who are the beneficiaries of certain governmental programs. Those enlisted as beneficiaries of Medicaid, Temporary Assistance to Needy Families (TANF), Supplemental Nutrition Assistance Program (Food Stamps or SNAP), Federal Public Housing Assistance (Section 8), Low-Income Home Energy Assistance Program (LIHEAP), Supplemental Security Income (SSI) and The National School Lunch Program's Free Lunch Program are all allowed to apply.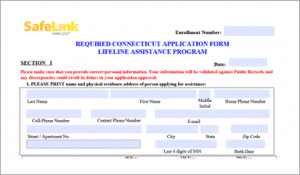 Another factor that makes one eligible for SafeLink wireless application is that the annual income of a family must be at or below 135% of Federal Poverty Guidelines. These generic rules apply across United States of America, but finer requirements differ from state to state, and one is advised to familiarize themselves with what SafeLink wireless application entails in his / her state.
Availability of SafeLink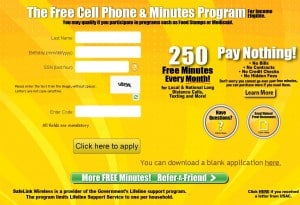 SafeLink is an initiative aimed at catering to the basic needs of the poorer sections of the American society. Each household or economic unit – all the members living in the same house as a single unity are recognized as a household – is allotted a single SafeLink phone and connection. Each household that is deemed eligible for SafeLink wireless application is thus entitled to about 60 minutes of free talk time every month.
SafeLink wireless application is rightly deemed valuable as these 60 free minutes, when used wisely, could be what bring about a change in the quality of life of users. If you are looking for a job, SafeLink wireless application will fetch you a contact number that can shared with potential employers so that you can be contacted by corporate houses easily. The one phone is known to be shared by family members with the individual with the greatest need for it using it – the connectivity becomes shared property with the phone being passed around among the members of the family.
Ease of SafeLink wireless application
There are no strings attached to applying for SafeLink services. There are no contracts binding a user, and the provision of solely pre-paid services translates to ensuring that there are no unintended costs incurred by a user. A user only needs to reapply once a year, with the service provision being discontinued only when the economic status of the user improves considerably.
SafeLink wireless application is quite a simple process, with ample information being provided on the website of the service – www.safelink.com. Information is provided based on the state of residence, clearing most doubts that one applying for the service may have.
SafeLink wireless information can be clarified by using its toll free number 1-800-723-3546. Calls are answered from Monday through Saturday, between 8am and 10pm, and between 8am and 7pm on Sundays. Note that the timings are according to Eastern Standard Time. This might well be the last call you are obliged to make from a pay phone as you are relieved of pay phones and unsightly phone bills after filling out your SafeLink wireless application.
The service has garnered much respect from users and supporters over the years, and the necessity of such services is unquestioned as it is very real. Inquire about your SafeLink wireless application today to claim your phone and talk time today.