Get your free cell phone and 250 monthly minutes with Q Link Wireless, Lifeline assistance program with no contract, no bills, no credit check, and no additional fees. Receive 100 FREE bonus minutes for referring a friend.
There are ways now allowing a person to receive discounted or free cell phones with attractive plans for pay-as-you-go talks represented by Q Link Wireless free government phones and smartphones program in particular. This is a good program for all those who receive low income and qualify for obtaining financial assistance from the authorities. Several providers give this help for the use of their wireless services.
Qlink wireless provides a Lifeline Service program with telephone service discounts. This unique opportunity enable eligible subscribers to get free qlink wireless phones, free cellular service, and no monthly bills to pay for it. 250 free voice minutes are added to a free cell phone upon activating it. There is no annual contract or annual bills associated with this support program. Different typical features are included in all plans with great nationwide coverage of AT&T.
How to get a Q Link wireless phone through Lifeline
The Lifeline assistance program provides special rates for telecommunication services to families and individuals with low income. It used to be a wire phone service assistance, however, today due to the wide spread of wireless communications many people are able to enjoy the advantages of discounted cell phones. Different states fix various conditions for receiving this assistance. Hence, residents of a specific state must check the details for their own place of living.
How to apply for Qlink wireless phone
After checking whether a person is qualified for the assistance with different state guidelines, the simplest and fastest way to apply for a free Qlink wireless phone is through www.qlinkwireless.com. Qlink wireless application can be downloaded and sent through this website. It is also possible to check Qlink wireless application status here.
Qlink Wireless Simple Rate Plan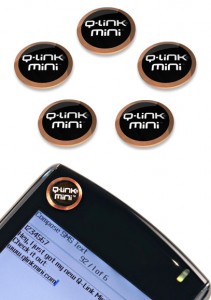 The plan for using this provider is good since it comes without any hidden charges and without any daily access fees. A holder of this prepaid cell phone plan, whatever Q link wireless smartphone or regular cell phone they use, is suggested to pay for the voice minutes in advance. This user doesn't have to sign any long-term contracts, undergo any credit checks or make any deposits.
The advantages of this prepaid cell phone plan include the ability to refill air minutes 24 hours a day 7 days a week. This can be done either online or over the phone. Q Link Wireless card or PIN can be purchased at many locations nationwide, as well. Besides, there is a starting amount of 100 free airtime minutes. Finally, the plan enables a subscriber to use all possible modern cell phone features including international calls.
To conclude, Q Link Wireless free government phones and smartphones program is a good way to receive top-notch wireless communication with very low or no cost spent on it.