Government assisted programs offering free phones and free minutes include QLink Wireless, the information about which is available through qlinkwireless.com, an official website of this mobile service provider. The families and individuals with low income are given a chance to enjoy discounted benefits of wireless of cell phone plans. It has become a usual thing now for mobile services to come in a form of assistance taking place of a conventional phone wire.
The homepage of www.qlinkwireless.com features general facts about Q Link wireless with stating main advantages of using this provider along with latest updates on special offers and the company news. All main sectors of qlinkwireless.com can be reached through this homepage.
"About Us" Section
T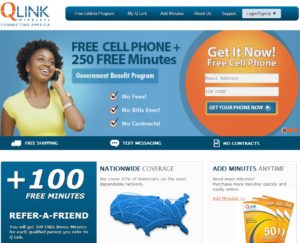 his web page gives information on the providing company and services given. The Lifeline and Link-Up programs are possible to receive for the subscribers meeting some requirements. Millions of Americans have been using the help that comes through these programs. The Universal Service Fund is formed not from the money of tax-payers, but from other sources.
"Lifeline Program" Section
If you want to find out about the specifics of Lifeline program, enroll for Lifeline Service, as well as read about all plans and features of Lifeline, this section is the one that gives such an opportunity. Along those actions, it also describes a Refer-A-Friend option and lets all prospective applicants to check whether they are eligible for filling Qlink wireless application. Moreover, here a user can find answers to frequently asked questions, change current plan and buy or add more minutes.
"Phones" Section
Under this part of www.qlinkwireless.com, a subscriber can get the description of sample Q Link Wireless phones and Qlink wireless smartphones. Their retail prices, availability and amount of free bonus minutes included are listed here, too.
"Service & Support" Section
This is a customer service sector. Existing users can learn the phone number of Qlink customer support and its e-mail. Using this page, a customer can check enrollment status, redeem monthly minutes, set up voicemail, and read about text messaging, international calling. Finally, technical and service support may be accessed here. Users of this provider can submit documents, update account, cancel service, add or buy minutes, and, of course, sing up for free government cell phones from Qlink Wireless.