A chance to get and use a free government cell phone is given by Assurance Wireless Program. This program is carried out through Lifeline assistantship for all the citizens of the USA who qualify. The coverage are of this service is different state to state, however the criteria for eligibility are pretty simple and alike. Usually, a person who wants to take part in Assurance Wireless program is the one who already receives other types of assistance, such as Medicaid and food stamps. Still, it is necessary to check out with AW as for the specific case.
The Assurance Wireless program itself is very simple and its benefits are clear.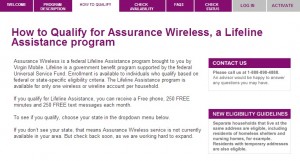 Together with a free government cell phone, a subscriber gets 250 free voice minutes that are added automatically every month. Extra services can be paid separately and are not very expensive. Voice mail, caller ID and call waiting are included to the services free of charge. Nationwide coverage makes it great to use such a phone.
If you found an error, highlight it and press Shift + E or click here to inform us.