ReachOut Wireless no longer participates in the Government Lifeline Program and does not provide free cell phones or smartphones.
Along with regular cell phones, Reachout Wireless smartphones are offered for both, government assisted lifeline services of this provider and non-governmental conventional prepaid cell phone plans. Reachoutwireless.com smartphones can be chosen by any subscriber in the section of Simple Plan during online enrolling process. The existing customers have a chance to update their cell phones to smart phones through the same website, too.
Features of Reachout Wireless smartphones
Does Reachout Wireless have smartphones of the latest models? Yes. The number of models is not very big though. Still, the variety includes the latest models of the popular brands, including Apple iPhone 4, HTC Droid Incredible 2, Motorola Droid 2, LG Vortex VS660, HTC Droid Eris, Motorola Devour, and many others. In order to get these Reachoutwireless.com smartphones, it is needed to pay extra fee. Only the simplest prepaid cell phones are available for free in different subscription plans of Reachout Wireless.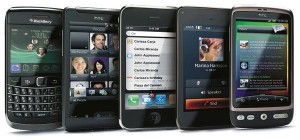 All the smartphones of Reachout Wireless go with typical phoning features given by the provider.
International long distance. It is possible to dial more than 100 countries directly from a Reachout Wireless smartphone. The charge is around $1.50 per minute, though there are some exceptions described in terms and conditions.
3-way calling. Use you handset to have a three-person conversation. It does not matter if the people you talk to through 3-way calling have the same service provider, as long as theirs support this feature. Basically, the charges are the same as for making two calls.
Call forwarding. Any other domestic number can be assigned by you to receive forwarded calls from your Reachout Wireless smartphone. If this feature is activated, the smartphone itseld will not ring when called. The price of this feature is equal to the one of inbound calls.
Select text messaging. Through this feature, any customer can send and receive short text message to and from the other cell phones supporting the function. The total length of one text has a limit of 160 characters.
Voice mail. This option is an answering machine. There is no additional charge for it, since its costs are included in per-minute rate.
Called ID. This is a no additional charge feature, as well. You will be shown a caller ID of the person who calls you.
Call waiting. There will be an alert to your Reachout Wireless smartphones when there is a third party trying to reach during an active call.